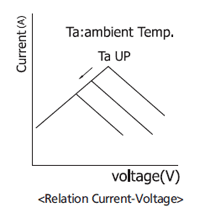 1. PTC Thermistor shows a self-heating function when voltage
is applied. When operating point exceeds the maximum
current point, the current becomes constant and PTC Thermistor itself
automatically regulates temperature. This provides PTC Thermistor
PTC Thermistor with a wide range of applications as a constant
temperature heating element.
2. When operating point is below the maximum current point,
PTC Thermistor shows over current limiting function.